NightStalker DVD Signing at Best Buy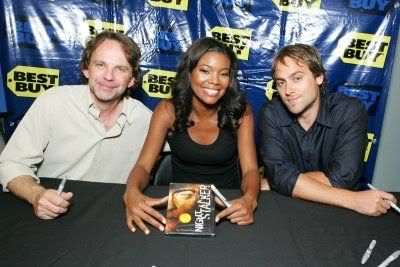 Stars Stuart Townsend, Gabrielle Union, and Producer Frank Spotnitz signed DVDs at Best Buy in West Hollywood to celebrate the May 30th DVD release of NIGHT STALKER: The Complete Series, including four previously unaired episodes.
NIGHT STALKER: THE COMPLETE SERIES centers around crime reporter Carl Kolchak's (Stuart Townsend) obsessive hunt for his own wife's murderer, and the discoverery that his imagination is no match for the evil that lurks in the dark. Paired with skeptic Perri Reed (Gabrielle Union), Kolchak stops at nothing to uncover the supernatural side of the night.
From Frank Spotnitz, the producer of The X-Files; NIGHT STALKER: THE COMPLETE SERIES is so good, it's scary.